Playwright Loretta Seto on how she first started writing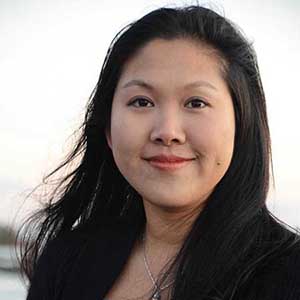 Playwright Loretta Seto is currently hard at work putting the final touches on The Ones We Leave Behind, our next MainStage show running at The Cultch in Oct-Nov this year. She is also the writer behind the smash hit Dirty Old Woman, co-produced by VACT in 2016. We ask Loretta how she came to write her first play, and here's what she had to tell us:
"Growing up, I wasn't naturally drawn to playwriting—instead fiction was my grand passion and theatre felt like a distant planet designated for the artsy acting students that starred in the musicals and plays at the local high school I attended. It wasn't until just over 10 years ago that I took my first real step towards theatre when I signed up for a monologue workshop at PTC. I felt a real apprehension being there since I had very little playwriting experience, and my starting attempt at the first few pages of a monologue was nothing short of dismal (expository dialogue galore!). But as the weeks passed, I found a certain stride in the writing and managed to complete a 45-minute piece titled Deep Water, which tells the story of a troubled woman on the verge of a breakdown after she discovers she is pregnant by her lover and does not know how to tell the news to her husband. Deep Water went on to be selected by VACT for further development as part of their 2013 MSG Lab program and culminated in a staged reading. The experience was hugely rewarding for me, and gave me the extra boost of confidence that, yes, perhaps I could be part of this magical world of theatre after all.
Fast forward to 2018 and I'm in the midst of working on another draft of my full-length play The Ones We Leave Behind, which is VACT's mainstage production this fall. The Ones We Leave Behind tells the story of Abby Chung who investigates the life of an elderly woman who died completely alone, and in the process discovers some answers to the mystery of her own life. Having already gone through two staged readings last year, I'm excited by the journey the piece has travelled thus far and can't wait to see how things grow after the next round of play workshops.
I am beyond thrilled at having the support of VACT, which has fostered my development as a playwright early on, and I am grateful to this amazing theatre company that works so hard to get Asian Canadian stories out there and on stage for all to see."